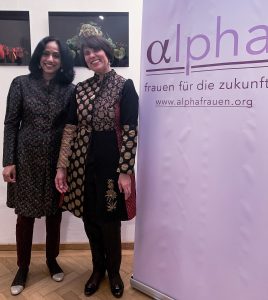 On Monday, December 2nd, 2019, the pianist Marialena Fernandes, the mindfulness and meditation teacher Martina Esberger-Chowdhury, together with the moderator Eszter Dorner-Brader have put together a program titled "The Sound of Silence". 
Music and meditation touch layers of Being, that we are unable to access by the intellect. In the energy-draining pre-holiday season, this is a special gift for us – to be one with ourselves and deeply at peace.
Registration required: clubalpha@alphafrauen.org
Quote: Alpha –  Newsletter Nov-Dec 2019/N. 174, S. 7)
Club Alpha
Stubenbastei 12/14
1010 Vienna
Monday, 2.12.2019
19:00 Uhr
Moderator: Eszter Dorner-Brader.